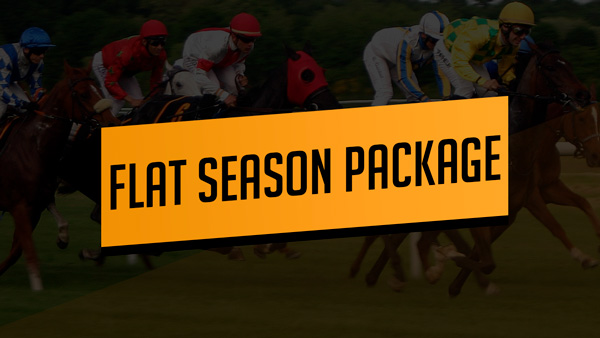 FLAT SEASON PACKAGE 2023
Sunday 30th April 2023 – Friday 6th October 2023
£10 for the Remainder of the Flat Season
Well what a National Hunt Season that was folks. From winning the Scoop 6 in November for over £405k, to smashing the Cheltenham Festival to bits, to absolutely taking the bookies to the cleaners on Grand National Day. We also made it our 15th straight year of profit when it comes to National Hunt Racing.
I hope you enjoyed the ride and that has set us up for what is going to be an absolutely insane 2023 Flat Season.
We are now into our 15th Flat Season where we have made a profit in 13 of the last 14 years.
Confidence is high that we will make it 14 from 15 in profit and you will not be disappointed.
We are doing things a little different this season and we are really focussing even more so on the top quality racing. You won't catch me tipping in anything below Class 2 as we make sure we are ahead of the game and more importantly the traders by having the edge.
I have already marked down where and when I will be tipping and complied a list below.
The Flat Season Package includes every tip sent out between Sunday 30th April 2023  – Friday 6th October 2023.
At £75 for the whole Flat Season for existing members, it really is an absolute bargain. (Just 7.5 points if you are betting to £10 stakes or a 15/2 winner). BARGAIN.
You have 9 festivals over the next 6 months alone and that is without our weekends and top quality midweek racing.
We look forward to having you on board and look forward to making huge profits together for the upcoming flat season.
What is included in the Flat Season Package?
Every single tip that we send out between 30th April – 6th October (start of the next National Hunt Season).
That is every midweek tip, every single weekend and every single festival.
We have a massive 5 festivals through the summer which are listed below and you will already know the great work we produce at festivals alone:
Here is a list of all the festival.
FESTIVALS LEFT
Newmarket July Festival – July 
Glorious Goodwood Festival – End Of July
​​​​​​​York Ebor Festival – August 
St Leger Festival – September 
Newmarket Cambridgeshire – October 
PLUS 
15 Weekend Specials
PLUS
Midweek tips in races at Class 2 and above
Why should I sign up to the Flat Season Package?
Because I consistently produce the profits year in year out. We are not talking about profit in 1 month or 3 months, we are talking about profit over a huge 15 years, as established as they come. When it comes to National Hunt Racing we are 15 years from 15 in profit, when it comes to Flat Racing, we are 13 years from 14 in profit.
I am as honest and trustworthy as they come and over the years we have built an excellent rapport with our customers and that basically comes back to the trust and honesty in how we operate things. We are completely professional, completely disciplined and every single tip comes with full reasoning behind each selection. 
I am always hungry to deliver the profit and although nothing can be guaranteed in this game, I think my knowledge, my rationale and work ethic will ensure we come away with big profits once again this Flat Season. I am always looking to break my previous records. You can guarantee that at JPW Racing Tipster no stone is left unturned. 
 We hope to welcome you on board for the Flat Season and we continue to beat the bookies together and make it not only a profitable few months but also fun for everyone involved.
How do the tips work?
First of all, the tips will be sent via text message (prioritised) and email.
Receive text message and place your bets.
Use the link attached to the text message to log in to the members area where you can read a full write up on why each selection has been chosen.
Note: If you already have an account, please login before completing the form below.