Importance of Long Term Success
Importance of staying with a tipster long-term?
Thought this was a good time to blog about the importance of staying with a Tipster Long Term. Everyone would love the perfect tipster and in a perfect world 12 months out of 12 in profit, when in reality this is just not going to happen. Professional Gambling is all about long term profit and discipline within a period of time. Personally I work 8 hours each day studying the cards and all this for a 23% strike rate. Any tipster will tell you the same thing, more horse's lose than they win but it is the price of the winning horse which makes all the difference. This is called value and beating the trader over a period of time. The winnings far outweigh the losses.
What are most people's mistake?
Basically the mistake most people make is something I call 'Service Hopping'. They will sign up to a tipping service for the first time and make a loss that same month. Instead of sticking with the service they will jump ship straight away. They could subscribe to two services which would be the better option but instead they move on to the next tipster and (this is only an example) they win £250 in that 2 month period. The 3rd month is a loss of £170 so they get frustrated and jump ship yet again. The 3rd tipster they move on to is in loss in the first month with the service, when the previous tipping service they were with, made a profit of £100. They have now missed the profit as they decided to move on from the service on the back on 1 bad month. This is the problem the majority of punter's are making.
Example
I will use my own service at JPW. I am using my own service as we have full results to hand and they have all been proofed independently but I will give you the same advice for which ever tipster service you wish to use. If the results have been proofed and they show consistent profit year in year out, then stick it out with them as by jumping ship it is a recipe for disaster.
Results since September 1st which show the benefits of sticking with a tipping service long term.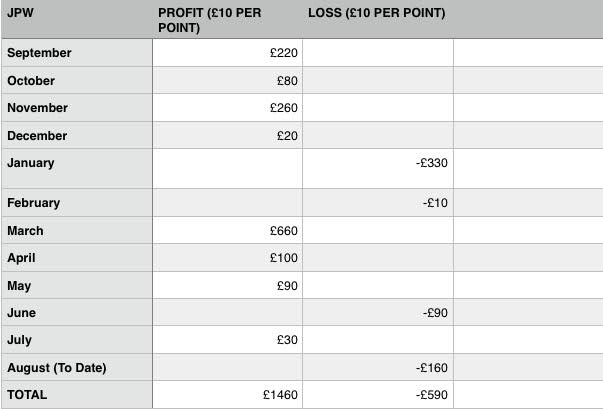 So as you can see from above we had 8 winning months and 3 losing months. We are still to conclude August but to date we are in a loss.
As you can see from above the back end of 2015 was a huge success but we got off to a dreadful start in 2016. January and February we lost a lot of custom which is down to results but those who left us missed out on a huge March.
This is a perfect example of staying with a tipster long term as it is the only way you will reap the rewards.
JPW Racing Tipster has now been running 7 years and I am proud to say we have been in profit for 7 years running.
This year has not been our most successful year, actually 5th out of the 7 years but again we have produced profit.
We are a well established Tipping Service and trusted throughout the industry. Our festival's are second to none and we continue to thrive and remain at the top of the pile. It is through consistency, the Service is in the driving seat with the ability to produce profit 7 years running.
I hope you have enjoyed the read and it shows the importance of sticking things out to provide the profit.
Kind Regards
JPW Racing Tipster
Want
free Horse Racing tips

every Weekend?