Where to start. What a month February was with 40.8 points profit for the month.
After a bad January things had to change. I was not a patch of the tipster who was Number One in the industry, just a few years ago.
I knew the problem so set about putting things right and now mentally I don't think I have ever been in a better place when it comes to tipping.
I have always had the knowledge as I live and breath everything about Horse Racing and don't leave a stone unturned. The problem was coming from my own mindset and after a couple of bad months maybe confidence was a bit low. Given I have 11 years experience I quickly put that right and as I have said above, I am in a very good place.
Going into Cheltenham confidence is at an all time high and in all the 11 years of tipping, this was my best February to date. Given we have made a profit at the last 10 Cheltenham Festival's we are all in for a treat this year. As always I will remain level headed and not get carried away. We have a job to do at Cheltenham and I am focused on making this the best Cheltenham we have had at JPW Racing Tipster.
Here are the stats for February:
Number of tips = 65
Number of winners = 19
Winning strike rate = 29.23%
Return On Investment = 61.12%
How we managed 40.8 points profit in February:
The winners started to flow immediately at the Leopardstown Festival and on the 2nd of February we came away with 3 winners, as Commander Of Fleet (13/2), Apples Jade (11/10), Defi De Seuil (7/2) and Jezki (2nd at 33/1) got us off to a great start.
On the 3rd of February we then came away with two winners with Klassical Dream (3/1) and La Bague Au Roi (2/1). We were unlucky not to get a 3rd winner as Cut The Mustard travelled well throughout but found little off the bridle.
We didn't have to wait long for our next winner as Earlofthecotswolds won with ease advised at 11/2.
Then came the Equine Flu and tips were sparse so it wasn't until the 14th February before the winners started flow again. Allaho was a 5/1 winner over in Ireland which was quickly followed by Glen Forsa in impressive fashion at an advised 4/1.
Then came Super Saturday where we had 4 winners from 7 selections. Jester Jet was a 4/1 winner, Al Dancer 11/4, Robinsfirth at 8/1 and the very impressive Cryname rounded off the day at 7/2.
What a day it was and here is a winning slip from one of our customers.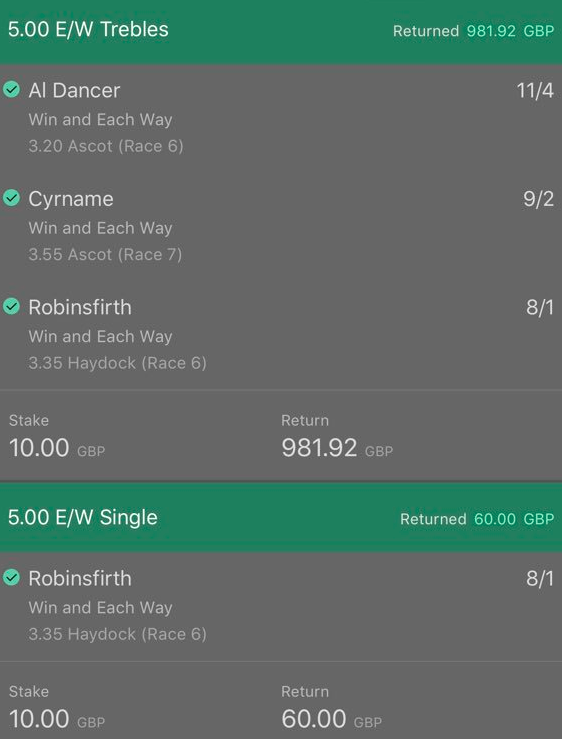 A quiet couple of days but two tips and two winners on the 21st February as Zylan won at 11/1 and Go Another One won at 6/1.
Here is another winning slip from one of our customers who landed the double: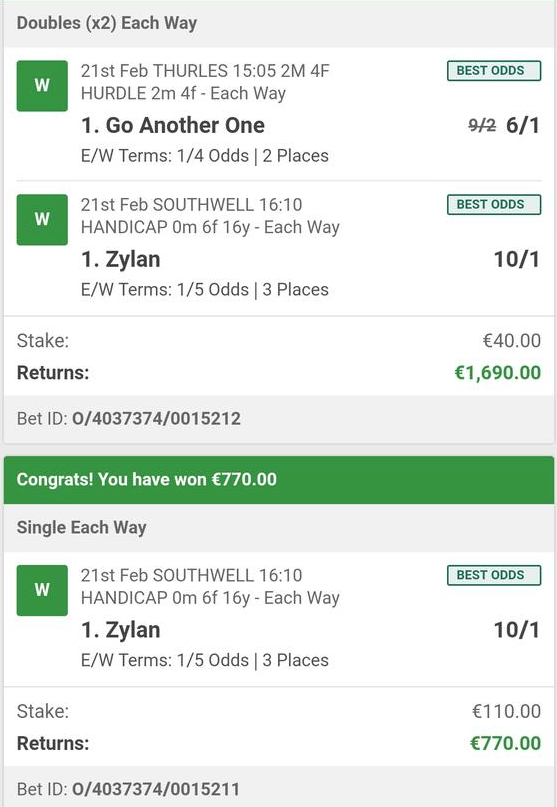 From then we just kept smashing the winners in as the 22nd we had Spirit Of Zebedee at 6/1. The 24th Vision Des Flos at 11/2, 25th we have Crucial Role at 13/8, 26th we had Boagrius at 7/2 and the 27th we had Overland Flyer at 15/2.
I would just like to thank all my loyal followers who have never lost faith in me and I hope that was repaid in February. It is not job done though we have Cheltenham on the horizion and it is time to smash the place to pieces. I can't wait and it is time to do the business:
Here is some of the messages from our followers via Social Media, throughout the month which have helped massively:




NOW IT IS ON THE CHELTENHAM…
FULL TIME MEMBERS GET ACCESS TO ALL TIPS AT CHELTENHAM
Sign up to the Cheltenham Festival!
This is my favourite festival of the season, without question.
National Hunt is my forte and so is Cheltenham.
Very rarely will I not come away with a profit at Cheltenham Racecourse and this particular meeting has produced profit every year for the past ten years.
This four day meeting suits us down to a tee. Get involved for the bargain price of £12.99 for the whole meeting.