NATIONAL HUNT SEASON Review 2020 - 2021
National Hunt Season Review 2020 – 2021
We came away with profit on the National Hunt Season for the 13th year running.
In total we made 94 points with a return on investment of 16.25%. Detailed Results are available at the bottom of this page.
It was not our best National Hunt Season but it was not our worst and 94 profit is a solid 6 months.
More so we have kept our 100% intact for the 13th year running. We have been making profit for well over a decade and are as trusted and established as they come. 
From October 7th 2020 – May 2nd 2021 we had 6 months from 7 in profit showing that we are as consistent as they come. We had a few bad spells throughout the season but in true JPW fashion, we pulled through it and got the profit back on track.
Below is the monthly profit made each month:
October – 23.8 points profit
November – 1.8 points loss
December – 4 points profit
January – 34 points profit
February – 9 points profit
March – 4 points profit
April – 21 points profit
Total 94 Points Profit
We will now take you through each month and at the end give a few horses we are looking forward to next season.
OCTOBER
13 winners from  47 selections in October and the season got off to a great start with 23.8 points profit. Our biggest priced winner was at 10/1, so not the biggest winner but we were just so consistent. Frodon was my favourite winner of the month. He carried top weight around Cheltenham and won as he liked. He pinged every fence and was just a joy watch. Who would've thought he would go on to win a King George after winning a handicap at Cheltenham?
NOVEMBER
Our only losing month of the National Hunt Season but it was only a small loss of 1.8 points. We had a bad couple of weeks at the start of November but we ended the month very strongly with 12 winners from 43 selections between 15th November – 29th November. A 14/1 winner with Calva D'Auge and two 12/1 winners in Floressa and Flash Of Steel ensured we got most of our profit back that we lost. Sometimes it is all about keeping composed and riding the storm. One thing I have mastered over the years is the mentality to come through a bad run. Experience is everything. Our biggest priced winner of the season was the 14/1 on Calva D'Auge but my favourite winner of the month was Epatante in the Fighting Fifth. My favourite horse in training and she was just sublime this day and I thought she was unbeatable in the Champion Hurdle. How things change throughout the course of a season hey…..
DECEMBER
A month which felt a bit dull and although we were consistent with 11 winners and 9 each way bets, we failed to get a decent run together. It was an in and out month to say the least but we did come out with 4 points profit. Our biggest winner of the month was Monte Cristo at 25/1 on Boxing Day. It was a lovely Christmas present for us all as we absolutely cleaned up. My favourite winner though was Chatham Street Lad in the Caspian Caviar Gold Cup at Cheltenham. It was the first race meeting I had been too since the previous Cheltenham Festival and it was great to be on course again, having the winner of the big race.
JANUARY
An absolute top class month and 2021 was off to a flyer. A huge 34 points profit was made in January and a big priced winner in the Dreal Deal at 22/1, win only. We went through a right purple patch from the 12th January to 23rd January, coming away with 44 points profit, topped off with a 22/1 winner. Dreal Deal was a confident selection and it was great when things go accordingly at such a big price. For obvious reasons that was my favourite winner although seeing Imperial Alcazar win was a close 2nd as I had just backed him at 33/1 for the Pertemps Handicap Hurdle at the Cheltenham Festival, before the race. He was sent off 5/1 for the Pertemps but ran no sort of race, not so good when that didn't come off.
FEBRUARY
Another month of profit to the tune of 9 points and our 3rd month of profit from 4. Like November we got off to a bad start and went 11 days without a winner. It was all about keeping composed and keeping disciplined until our fortunes changed. We ended the month strongly again and soon as one winner went in a further 9 followed in the space of 9 days. The winners included Polish at 25/1, Captain Chaos 9/1 and Good Risk All 10/1. My favourite winner was Good Risk All who was the last leg of an E/W Yankee which included Polish, Sceau Royal and Buzz (2nd). My customers came away with huge profits and although officially we made 9 points for the month in singles, many customers won thousands, including myself. What a day it was.
MARCH
I normally aim to peak for the Cheltenham Festival but we went into the Cheltenham Festival on the 16th March with just 2 winners under our belt. It was of no concern for me though as I always peak when the going gets tough and on the very first day of Cheltenham we landed 28/1 winner Vintage Clouds. My favourite ever tip in 13 years as the previous season I bumped into someone very close to the horse:
"Can't quite believe I am here typing this but after the Gold Cup last year I got speaking to someone very well connected to VINTAGE CLOUDS. I won't mention any names but let's just say 'very closely connected'. It wasn't just a 5 minute conversation either it was over many hours over the course of the evening, and after a few too many drinks.
We got on to the subject of handicap horses who may have 'got away' at the Cheltenham Festival and VINTAGE CLOUDS pops up. He finished 2nd of 24 to Beware The Bear in this race back in 2019 rated 144 and then was 8th of 23 in this race last year, rated 151. It was mentioned in our conversation that the year he came 2nd, connections really fancied his chances and it was a horse who so nearly won.
Anyway I said my opinion was 151 was a handicap mark way too high (last year) and you got one more shot at the Ultima Handicap Chase with this horse next season, but he needs to come down to a handicap mark of 142 and given he had a wind operation just before he finished 2nd in this race in 2019, this time I would give the horse a wind operation one race prior to this race, so VINTAGE CLOUDS learns that he can actually breathe better, before the race and don't get caught by surprise during the race, that he actually can breath, which probably was what happened in 2019, as he stayed on after coming off the bridle.
I woke up the next morning and said to my wife, can you believe the nerve of me, suggesting stuff to the person, well connected to VINTAGE CLOUDS, what to do with the horse.
12 months on and exactly what we discussed has happened with the horse. I can't say it was because of me as I have not seen the person again, or probably ever will again, with it being a random meet in the first place. What I do know is I have seen something unfold in front of my eyes and I have to practice what I preached and he comes into the race rated 143 (1lb higher than what we discussed) and a wind operation (in November, with one run since). Not only that but they are also putting on first time cheekpieces, just to help that bit more.
VINTAGE CLOUDS is an 11 year old who is now 1lb lower than when he finished 2nd in this race in 2019 and this year's renewal is not as competitive. This is a horse who won the Peter Marsh Chase last season off today's mark of 143. It ruined his handicap mark for this race last year, but every run this season has been with a view to getting his mark down to 142.
He is going to have to roll back the years but I am sure he has been trained to the minute and this is one of only two horses trained by Sue Smith coming to the Cheltenham Festival. A bold front running ride I am sure will be attempted and if he can start to get a few of these working hard in behind, he will stay all day long up the hill. Can I really practice what I preached, a year on?…"
Bets like that don't always come off so you for it to land with so many customers aboard with us was a great feeling. We also made it 13 from 13 Cheltenham Festivals in profit, a record I am very proud of.
We ended the month with 4 points profit but another National Hunt Season of profit was in the bag as we were no way going to lose 70 points in the final month of April.
APRIL
I wanted to end the season in style and to get over the 100 points profit mark but unfortunately we fell just short with 21 points profit for the month. I should not be too harsh on myself as April brought us to 5 winning months from 6 but it is always nice to get past a target which was 100 points.
Unlike a few other months in the National Hunt Season, we started April in good fashion, came home with profit at Aintree for the 11th time in 12 years, leaving it until the very last race with Knappers Hill. He was my favourite winner as once again the pressure was on to come home in front and once again we delivered. I also liked Theinval who was a winner after running just two days before. We did the same with the horse back in 2018 when he only had one day rest. What a horse to repay us like that on two occasions, 2 years apart. 
Another National Hunt Season done and another profitable one.
CONCLUSION
13 out of 13 National Hunt Seasons in profit and there are not many tipsters in the industry with a record like that. We were short of our record and it would have been nice to get over 100 points, but profit is profit and consistency over many many years is something I am proud of.
At JPW we are one of the most established services in the whole industry and have been doing the business for well over a decade.
Next National Hunt Season I want to break my record and I am always looking to set my bar higher and higher. The same as this Flat Season, I have targets I am aiming the bar high…..
WHAT NEXT?
The flat season is upon us and although we are around even for the season so far (just 7 days), in the 3 big races so far this season, the 1000 and 2000 guineas and Chester Cup, we have found winners in Mother Earth, Falcon Eight and each way money on Lucky Vega.
We are looking to make it 12 from the last 13 flat seasons in profit, although our last loss came way back in 2014 so we are actually looking to make it 6 from the last 6 in profit.
My record over a Flat Season is 124 points profit which was back in 2015 but my aim over the next 5 1/2 months is 100 points profit. If and when we get to that point, I will hunt down our record.
WHY SHOULD I GET INVOLVED?
We are trustworthy, honest, transparent, hard working and reliable. We are established as they come and are no flash in the pan, we having been making profit for years up on years. 
You can get the whole Flat Season for £94.99 using discount code – JPWFLAT15 which makes it £17.27 a month.
You are in for something special this flat season and as long as you come equipped with a 100 point bank, by the end of the flat season our aim is to increase that bank by 100%.
Any Questions then please get in touch.
NATIONAL HUNT RESULTS IN POUNDS
TOTAL 94 POINTS PROFIT
Profit to £10 stakes = £940
Profit to £20 stakes = £1880
Profit to £50 stakes = £4700
Profit to £100 stakes = £9400

Profit to £10 stakes graph – National Hunt Season 2020/2021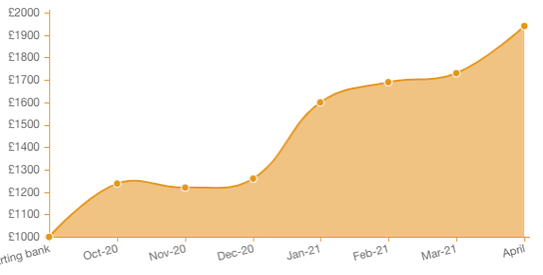 Come and join us for the Flat Season
As you will already know we have been in the game for nearly 13 years and this will be our 13th 
Flat Season
.
We have made a profit in 11 from the last 12 flat seasons with our only loss coming way back in 2014.
We are as trustworthy as they come, honest, hardworking, professional, transparent and we say it how it is.
What you see is what you get.
We can offer you £15.00 discount on the Flat Season, using Discount Code – JPWFLAT15
That works out at an absolute bargain of £17.27 per month.