🔥 JPW IS ON FIRE - WE WON THE SCOOP 6 BONUS 🔥
Free Horse Racing TIps
If you are a totally New Customer to JPW Racing Tipster and want to take out the National Hunt Package, please 
create an account
 before returning to the email and clicking on the link below.
If you already have an account, make sure you are already 
logged in
 and then click the button below for the discount to automatically apply.
GET £74.99 DISCOUNT BY USING – DISCOUNT CODE – NH2223
Days don't get much better than Saturday for JPW Tipping Members and JPW Scoop 6 Members. The scenes were unbelievable.
We will start with the tipping front before showing you the write up we sent out to members for the Bonus Race. I am sure the write on Ga Law will show you that we don't mess around at JPW when it comes to National Hunt Racing, we really are top of the game over the Jumps.
We are now in our 15th National Hunt Season and we have just landed another huge Cheltenham November Festival, making it 14 from 15 November Festivals of profit.
The National Hunt Season got underway at Chepstow on the 7th October and in just over a month we are already 37 points in profit, operating at a staggering 42.03% return on investment.
CLICK HERE FOR DETAILED SPREADSHEET 
Like we always say we specialise in National Hunt Racing, it is where we have made profit for the last 14 seasons, with this being our 15th season. When it comes to National Hunt Racing, JPW Racing Tipster is top of the pile as name us another tipping service who has made profit over the Jumps every year, for a DECADE AND HALF?? We haven't even mentioned what we achieved on the Scoop 6 this weekend either.
In terms of work produced, you will not find a hard working tipster and my day starts at 5am each morning working on Tipsters Empire until 11am. I then spend 6 hours on JPW until 5pm, sort the kids out, have tea, put them to bed and then back working on both JPW and Tipsters Empire until 10pm, go to bed, wake and then repeat. 350 days a year and even when I am holiday with the family, I am still up early each morning, grafting before we go for breakfast.
The reason I am telling you all this is because ultimately those who work the hardest reap the rewards and I want customers and potential to know, you are not with a tipster who don't take his job seriously, you are with a tipster who gives blood sweat and tears for any customer at any of my businesses and that is big reason why the Scoop 6 took home nearly £400k this weekend, besides the huge profits made this National Hunt Season so far. 
THE WINNING WRITE UP SENT OUT FOR THE SCOOP 6 BONUS – ABSOLUTELY NAILED
BONUS RACE SELECTION – GA LAW – 0.75 POINTS E/W
 
Well the time has come to find the winner of the Paddy Power Gold Cup and net ourselves further £308k. 
Before moving on all I will say is, it has been non stop studying for the race, there is not an angle I haven't looked at and no stone has been left unturned.
In an ideal world of course it would have been nice to have a couple of picks, like we do on the Scoop 6 but even so, I am confident our selection goes very close.
Generally from a tipping point of view it is a bit different when it comes to the Scoop 6 Bonus. Yes we are looking for the winner whether it be a tip in the race or looking for the Bonus winner but if we were tipping in the race, we would look at value and spot bookies mistakes, value goes out of the window on the Bonus Race, we simply want the winner.
During my race study I narrowed the race down to 4 selections, those being the first 4 in the market. Yes I could have looked at horses at big prices who no doubt offer value but I am sure we would have a few unhappy syndicate members if I went and put up a 20/1 shot when £308k is on offer. Genius if it did come off but the backlash would, I am sure be – 'what are you doing'.
With that in mind I will start with the favourite (at the time of writing), and work my way through the 4 horses, offering my conclusion at the end of the race:
FRENCH DYNAMITE
Mouse Morris is as shrewd a trainer as you will find and I am sure he would have targeted this race with French Dynamite. He was a good winner of a Grade 3 Novice Chase at Thurles last season, beating the now 149 rated Ciel De Niege by a nose. He then went to Punchestown at the Festival and came home a decent 3rd of 15 to El Barra. That horse has since gone on to finish 3rd in the Galway Plate and last weekend went and won a Grade 3 at Cork. The form is solid from French Dynamite and even back to his hurdling days, he was a very decent horse. 
He lines up here rated 148 which is probably about right and although he is probably a worthy favourite he does come with a few negatives. That being the fact Mouse Morris said after his win over hurdles 3 weeks ago that he might be a bit short of a graded horse and is probably a handicap horse. This is a handicap so not a huge negative but at the same time you couldn't say he is very handicapped on 148, if they actually think he is a handicapper. I also feel he possibly wants 3 miles and 5 of his 6 wins have been going right handed (4 wins at Thurles) so it could be that he is a better horse going right handed. The last Irish trainer to win this was Edward O'Grady and that was all the way back in 2009 with Tranquil Sea. I have heard a lot about this stat over the last few days but it is really lazy journalism or lazy tipsters who just hang on to a stat without thinking it through. It is quite easy to throw a stat out like that without backing it up but if they just dig a bit deeper they would find that the Irish have only run 4 horses in this race since 2016 and just 17 horses since 2010. Of course with a tiny amount of runners, the chances of winning are a lot less. I also feel the travelling is not ideal and in the back of my mind 'why have they not travelled to Cheltenham before for any festival?'.
GA LAW
Ga Law comes here on the back of an excellent 3rd to Riders On The Storm in the Grade 2 Old Roan Chase. This was after a huge 603 days off the track and a change in tactics to how he normally runs. Reading between the lines I am sure Jamie Snowden instructions were to just put him at the back of the field, let him get around, let him get some confidence as the long term plan is the Paddy Power Gold Cup. Again reading between the lines, I don't think he was expecting the horse to finish with such a flurry after such a long time off the track, to finish just 1/2 length behind a proper Grade 1 horse in Hitman. Ga Law even stays on the same handicap mark of 142 and he could quite easily have gone up the handicap. Before his 603 days off the track he was a Grade 2 Novice Chase winner at Wincanton as a 4 year old and was blowing fields away from the front. He was even sent to the Grade 1 VIII Novices Chase at Sandown when coming home 3rd to Allmankind and Hitman. To be doing that as a 4 year old and jumping with such zest, literally pinging each fence was a joy to see. His final start over fences as a 4 year old was at Kempton in the Grade 2 Pendil Novice Chase when coming home 2nd and that was the last time we saw for 603 days. He obviously had a setback but by the looks of things, it has done him no harm and if anything be the best thing that could have happened. He would have matured, he would have got stronger and surely has so much more in the locker to come from his Aintree run.
I guess the negative is he has never run around Cheltenham but 2 of his 8 runs have been at left handed courses and both times he ran well at Fontwell and Aintree. 
I think you will see Ga Law adopt his usual prominent style of running and given how well he jumps, if he takes to these Cheltenham fences he could take lengths out of the field if he gets into a lovely rhythm. You also have to feel at the age of 6, his mark of 142 is very workable and he could be well ahead of the handicapper. The good to soft ground we are likely to get will also be perfect. 
STOLEN SILVER
Sam Thomas is having a great time of things so far this season and even back to last season he has been going great guns. I am sure nobody would begrudge him and Dai Walters a win here, after last week's Helicopter crash. We hope both are recovering well and wish them all the best.
Back to Stolen Silver and he did nothing but improve last season and is likely to be at his peak this season. He was a 2 time winner last season which included a win at Cheltenham, as well as a 4th in the Plate Handicap Chase at the Cheltenham Festival and a 2nd at this meeting in November, over 2 miles. Following his win at Cheltenham back in April he has no gone up to a handicap mark of 150. Although he is respected, you have to feel others are much better handicapped, but I guess improvement is once again possible.
IL RIDOTO 
You have to respect anything trained by Paul Nicholls and this looks to be his number 1 chance. He is just a 5 year old so you can expect improvement again this season, while his handicap mark of 140 looks very workable. All his races apart from 1 have been over 2m and he did manage to get his head in front at Newbury in November last season. He ran a few decent races after without winning and you would have to think his best run was over 2m 4f on his final start of last season, at Ayr, when 3rd of 5 to Do Your Job. Although I am sure Paul Nicholls has got plenty of improvement out of the horse, he was still a horse who raced too freely last year, along with plenty of negatives, that you would be backing this horse in the hope he has improved and sorted his issues, rather than knowing the issues are sorted. Again a horse I respect and would not be at all surprised to see him go close but you have to weigh things up in perspective and for me he will be an even better horse next year or later in the season. 
CONCLUSION
You could make a strong case for all of the above but I have visualised everything about this race and for me, everything points to GA LAW. Let's get the negative out of the way and that is the fact he has not been around Cheltenham but the same could be said about French Dynamite and even Il Ridoto, who although has been around Cheltenham, he has not run well at the course. The only one with course form from the horses mentioned above, is Stolen Silver. Now it is my job to assess whether I think GA LAW will handle the course and I think given how well he jumps, he is made for these Cheltenham Fences. I am assuming that the plan will be to resort to his usual tactics of being prominent and letting his jumping test those in behind him. If GA LAW adopts these tactics, and I can't for the life of me see why he wouldn't, this race really could fall into his lap. Let's look back to the last 4 years and 2 of the winners (Baron Alco and Coole Cody) won from the front. Last year's winner Midnight Shadow was also prominent, while Happy Diva was mid division. That tells me it pays to be prominent and apart from GA LAW last run at Aintree, when they were just getting a run into him out the back of the field, he has always been a front runner or prominent. French Dynamite also likes to be up with the pace which is a positive for him while Stolen Silver is a mid division horse while judging from Paul Nicholls comments about ll Ridoto 'will enjoy a fast pace so he can come from off the pace', he will be held up and I don't fancy being a horse who needs luck in running in a messy race like the Paddy Power Gold Cup.
Now on to the all important handicap mark, with Stolen Silver being rated the highest at 150. In my opinion I don't think he is a 150 horse. He was rated 144 at the Cheltenham Festival (primed) and could only come home 4th to Coole Cody at 110% fit. Yes he won his final start impressively but the point being Stolen Silver got found out on marks of 145 and 144, in these types of races last season.
Il Ridoto has come down the handicap to a mark of 140 and I think he could possibly be better than his current mark, given he is only a 5 year old. Trouble is this is a very hot race and he won't be able to race freely as he did last year and neither will he have it easy coming through a wall of horses. Personally I think he will come on an awful lot and learn an awful lot in this race, that he will be primed for the Caspian Caviar Gold Cup in December (you heard it here first).
French Dynamite is rated 148 and once again he could be better than that mark but Mouse Morris thinks he is possibly just short of graded company and possibly a handicapper. If that is the case you are talking about a horse whose ceiling is between 148 – 153. 
GA LAW is rated 142 and I have no doubt in my mind he is 'very well handicapped'. I actually can't believe the handicapper kept him on 142 after finishing like a train in the Old Roan Chase to come home 3rd. He ran in that race after 603 days off the track and basically what the handicapper is saying is 'he has no more improvement to come' . We are happy to keep him at 142. Well thank you very much as I believe GA LAW could be a Grade 2 or Grade 3 horse, rated as high as 155 at best. He will come on tons for his Aintree run and I know some people talk about the 'bounce factor' on their 2nd run after a long lay off but I just think that term is used to look fancy and there is no such evidence of it being a thing. 
Taking you back to GA LAW novice days as a 4 year old with so much talent and was able to win a Grade 2 Rising Star Novice Chase, by a huge 22 lengths. He jumped his rivals into submission and even back then you just knew he was better than 142. On his next start he came home 3rd in a Grade 1 Henry VIII Novice Stakes, to Allmankind and Hitman. Both those horses are now rated 160 and 159 over fences while GA LAW still remains on 142, mainly due to the fact he has not raced because he was off the track for 603 days. Think about it logically, connections thought this horse was up to Grade 1 company as a novice and he showed it on the track, yet a couple of years later he is floating around on a mark of 142 primed for the Paddy Power Gold Cup, at the tender age of 6. How many pounds does this horse really have in hand as I would go 10 – 15lb.
Now on to the all important ground which looks like it will be good to soft ground. I think this ground makes it a level playing field for all of the above and certainly a ground in which GA LAW will be very happy. 
So just to summarise how I see the race being run and the visualization I have in my head. Coole Cody will go off in front and will be tracked by GA LAW, French Dynamite and Editeur Du Gite. GA LAW will keep pinging fences in behind and after the 3rd last fence coming around the bend to the 2nd last fence, GA LAW will jump to the front while Coole Cody gets in tight to the 2nd last fence. GA LAW will have a couple of horses in behind trying to get to him coming to the last fence but GA LAW jumps the last in front and starts his run up the hill, a few others in behind that include French Dynamite and II Ridoto are starting to close but GA LAW low weight and handicap mark are crucial, as he kicks on again when the others behind don't have the legs up the hill to win by 1 1/2 lengths.
Anyway what will be will be guys but I hope you can see from the detailed write up that every angle has been thought about and I really could not have worked any harder. Those who work the hardest generally get rewarded and I am super confident GA LAW can do the business for us. 
I am a great believer in that if you believe something will happen enough, it will happen. Let's be confident and let's get this £308k in the bag.
COME ON GA LAW let's win money 'Galore'….
A PHOTO WINNING JOCKEY JONATHAN BURKE FOLLOWING GA LAW WINNING THE PADDY POWER GOLD CUP – WHAT A DAY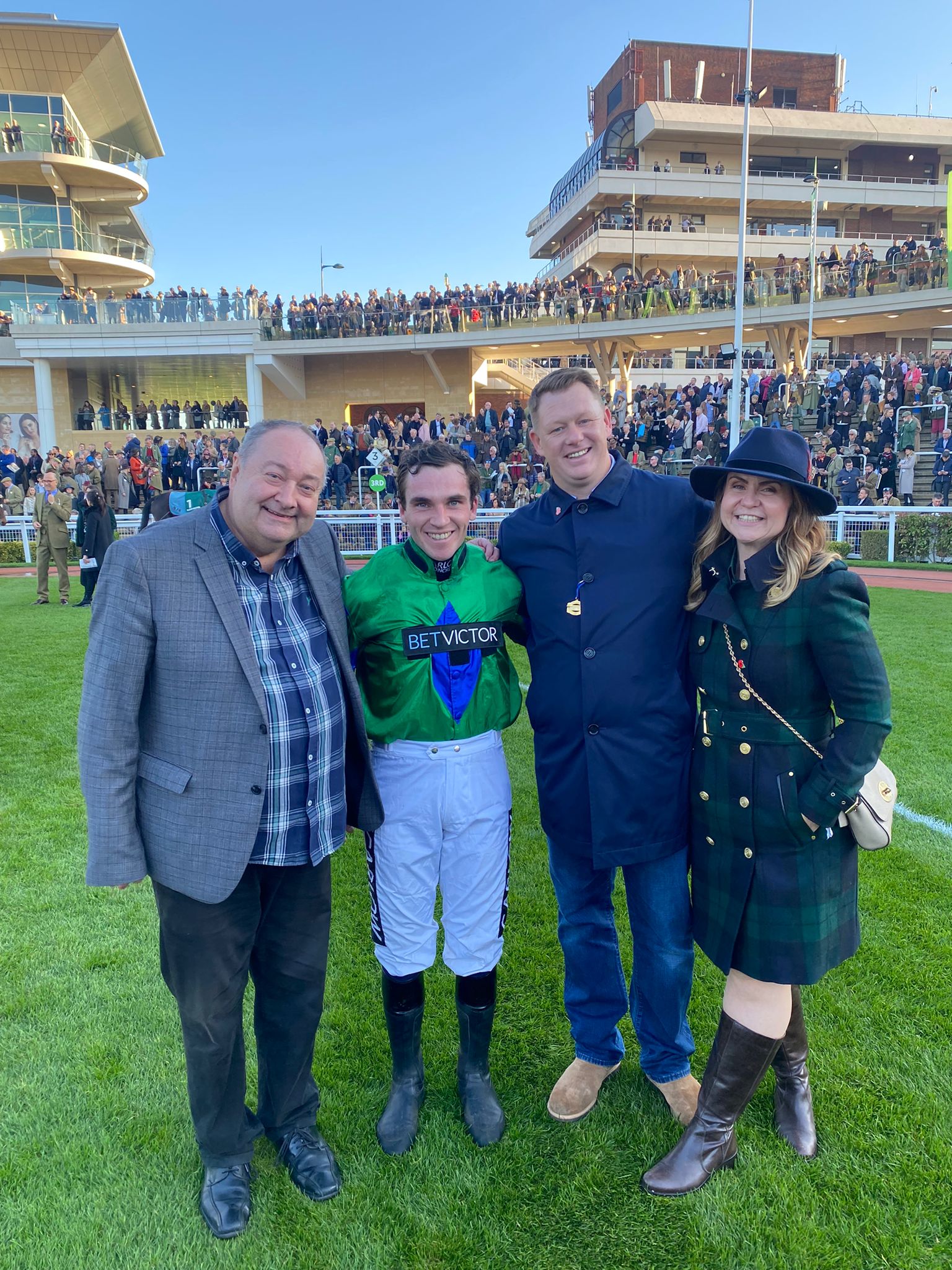 CONCLUSION AND WHY YOU SHOULD SIGN UP TO THE NATIONAL HUNT PACKAGE?
The main reason is because JPW Racing Tipster leads the way in the National Hunt game for longevity, consistency and profit. We have a 100% record over the jumps of 14 from 14 season, with the last 4 years recorded on the website and via the link above and below. We are well in profit already in our 15th season and no doubt it is going to be 15 from 15 seasons in profit.
Our record year was in 2016 where we made 174 points profit and we are hunting that record down this year.
All our tips come with full reasoning behind them and all are very well thought out with precision and outstanding knowledge of the Jumps game. We study hours and hours each week and we make sure we are always one step ahead of the game.
We are honest, trustworthy, reliable and the most transparent in the industry.
For those new to JPW Racing Tipster, it is run by James Walsh who is also the director at Tipsters Empire.
Want
free Horse Racing tips

every Weekend?