Our Best Bets at the Cheltenham Festival Over 15 Years
Now is a good time to go over our biggest best winners at the Cheltenham Festival since we started the service 15 years ago. It is always good to go back in history especially to our winners as I am indirectly training my mindset. I say it many times to our customers, our tipsters at Tipsters Empire, that the mindset is the most important thing as a tipster and it has to remain positive at all times. It is a hard thing to get right, especially if you are on a losing run but I would like to think given I have been in the game for nearly 15 years, I have mastered it. I am just unfazed by anything and I really thrive off the pressure at the Cheltenham Festival. The weeks leading up to the festival or at least as soon as that calendar hits March, I am working on that mindset making sure I am fully focused to ensure it peaks for the biggest 4 days of the year when it comes to Horse Racing.
I think going over these big priced winners and memories, is also good to highlight to customers or potential customers the amount of work and logical thinking that goes into the tips. We are not a service that just gives our tip for the race, we will give out a detailed analysis as to why we have come to the selection and the thought process behind it. Everything sent out has been prepared for over months and even sometimes years and I pride myself on running the best Cheltenham Festival Tipping Service in the industry.
After all we have a fantastic Cheltenham record in tact which stands at 14 from 14 in profit and if I am being honest, it is a record I want to keep going for a lifetime. My expectations are high, you won't find a harder worker at the Cheltenham Festival and I want to beat my record of 54 points profit which was set in 2016.
I hope you enjoy the read and it is sure to entertain you for the next 15 minutes and more so getting your the Cheltenham excitement levels going.
CHELTENHAM FESTIVAL BEST BETS
1. CHIEF DAN GEORGE WINS THE 2010 ULTIMA HANDICAP CHASE AT 33/1
I was a relative newcomer to the tipping scene in 2010 and although I have been running the Cheltenham Festival Service for 14 years, (2023 being my 15th year), the first 3 years when social media was not as powerful as it is now, I was literally tipping to a handful of customers for Free and as a hobby but I would say the 2010 Festival was where things started picking up and I started getting a decent enough sized following, following the win of Chief Dan George.
This was a memorable win for me not only because of the huge price of 33/1 but also because I got to go into the winners enclosure following his win and was trackside right next to the last fence, seeing him jump the last fence and power up the hill.
I was at the races with my then Girlfriend (Now Wife) and her friend and husband. The husband knew the racecourse VET and after being introduced to him and our friends having a catch up with him, he told us to put on an armband with a cross and just follow him holding a VET box. It got us into the parade ring and we were basically pretending to be working with the VET as an assistant. Anyway cut a long story short, we headed on down to the last fence, in front of the spectators and we told to stand by the last fence, and the VET (not going to mention his name just in case he is still working at the races) said stay there until he comes to get us and we will follow him into the winners enclosure.
I knew I was on Chief Dan George at a big price but being a youngster and a bit lost for words that "I have just been in the parade ring at the Cheltenham Festival" and wasn't paying full attention, just taking photos and trying to take everything in.
Must have been around 6 fences out I started to give the race my attention and Chief Dan George was prominent. He took the lead 2 fences out and was then narrowly headed after last but rallied to lead up the hill, holding off the fast finishing The Package and the gamble of the race.
I was shouting to my friend's husband, "I had it, I had it" as we waited for the VET to come to us to tell us what and where to go next. He then returned and told us to wait by the rail as he has to make sure every horse comes in ok and we will then follow behind the winner on his nod. Little did he know I was beaming because I had just had an almighty win on Chief Dan George.
Walking up behind Chief Dan George into the winners enclosure was something I will never forget. Even if I hadn't tipped it, it would still be a special memory but the fact I was on at 33/1 and in a place I should never have been, as a "VET'S assistant", is a story that will live with me for a lifetime, such an incredible feeling and such a buzz.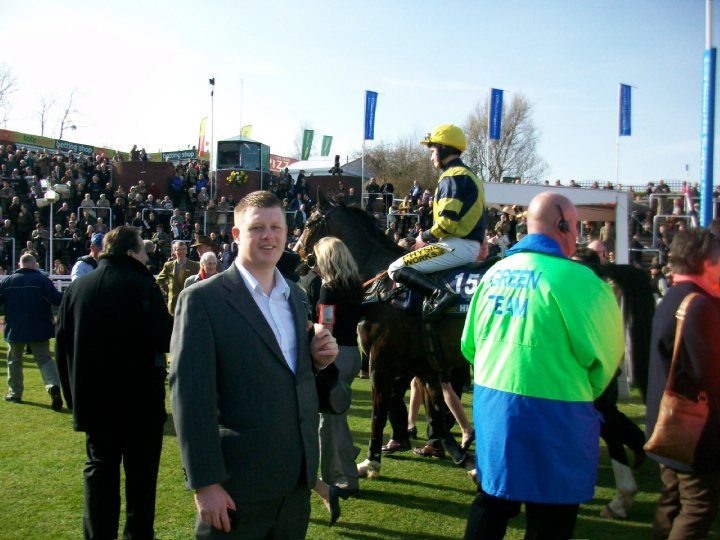 This is the actually photo of a very young looking JPW Racing Tipster, in the winners enclosure, following the win of Chief Dan George. Spot the bag I on the left shoulder I was carrying around as the Vet's Assistant 🙂
2. OISEAU DU NUIT WINNING THE GRAND ANNUAL CHASE at 69.0 ON THE TOTE
2011 is the closest I have ever been to at a losing Cheltenham Festival. I don't have the actual write up for the race as it was so far back (11 years) but my results show that going into the very last race of the festival we were 10 points down. On the morning of the race we tipped up Oiseau Du Nuit at 25/1 to our members. I was having a bad day and festival and had not had a winner all day, so it was literally down to the last race. I was at the races with my Father and 5 minutes before the race I could see that Oiseau Du Nuit had drifted to 40/1 with the on course bookies. For a horse so big in price I was actually pretty confident as Oiseau Du Nuit had previously finished 3rd in the Grade 2 Game Spirit Chase at Newbury to French Opera, who went and ran in the Queen Mother Chase, 2 days earlier. Not only did he come home 3rd but he stayed on eye catching between the last 2 fences and they were perfect attributes when he was faced with the Cheltenham hill. Joe Tizzard rode him in the Game Spirit but he was jocked off and they were putting a 7lb claimer on, bringing his weight down from 10st 13lb to 10 6lb.
Anyway I had already placed a bet the night before at 25/1 and I was down to my last £50 on course. A quick chat with my Father, explaining why he should not be 40/1 and if he was 40/1 with on course bookies he would be some price on the Tote. I quickly went over to the Tote with 2 minutes to go before the off and he was 72.0 on the screen.
As mentioned above, I had a terrible Cheltenham up to that point and I decided to go against everything I preached and put down £50 win (instead of each way), my Father followed me in with his own bet and as time was ticking and we would not have made it from the Centaur to the course, to watch the race, we decided to watch it on the big screen in the Centaur.
Coming to the 3rd last he was tanking away in 4th and I turned to my Dad and said, he is going to win, the way he stayed on like a train on his last start, he will fly up the hill (not sure Dad believed mind).
Oiseau Du Nuit jumped the 2nd last fence in the lead and he was pretty much home with only an error which could cost him the race. He pinged the last and off up the hill to win by 3 lengths.
We were jumping for joy, all the big shouts, "GET IN" "GET IN" and we didn't even know what we had won, as with the Tote the final price is not in until after the race. We knew it would be big, but just not how big.
Oiseau Du Nuit won the final race of the festival at 69.0 on the Tote and I scooped a big payout of £3450.
I left it to the final race of the festival to pull it out of the bag and I would like to think we still have a handful of customers still with us, 11 years on, who remember that day like it was yesterday.
The celebrations went on long into the night and it is a race which will always be high on my list and a race which confirms it is not over "until the fat lady sings".
A funny part of this story is that earlier in the morning in the Town Centre we had placed some placepots but with us being on  downer before the last race (with no winners) and all the excitement that followed, we had forgotten to check our tickets. I woke the next day rummaging through my pockets to find the placepot ticket. We had only gone and scooped another £800.
Just magical stuff and it goes to show Cheltenham truly is the place of dreams.
3. UNE ARTISTE WINNING THE FRED WINTER TIPPED AT 50/1 IN 2012
Another magical memory and although we were not on the big Tote price this time, a 50/1 advised price winner and 40/1 SP is not to be sniffed at.
This was a bet where I could not believe the price on Une Artiste. She was bought by Simon Munir in France and sent to Nicky Henderson, following 3 wins on the bounce in France. She was a first time winner at Haydock under her new trainer and then sent to the Grade 2 Adonis Hurdle at Kempton, where she was well beaten into 4th. It was the only horse Nicky Henderson ran in the Adonis Hurdle and at the time, he had 3 of the last 5 winners in the Adonis, including class horses like Punjabi and Binocular. It was fair to say he must have thought a lot of Une Artiste.
Come the Cheltenham Festival Une Artiste was sent to the Fred Winter Juvenile Hurdle where she was rated 127 but had 3lb mares weight allowance, plus 5lb claim from Jeremiah McGrath. She was basically running off 119, carrying 10st 3lb, by my estimations she was absolutely thrown in. What the hell was she doing trading at 50/1 the night before the race.
She absolutely flew up the hill under a tiny weight and for the 2nd year on the bounce, we had found ourselves an absolute monster of a bet.
We were only 2 days into the 2012 festival and profit was already secured with 2 days to spare. Unbelievable scenes.
4. GOLDEN CHIEFTAIN WINS THE 2013 ULTIMA HANDICAP CHASE AT AN ADVISED 33/1
The Ultima Handicap Chase is a race that I have made my own over the years and I have had the winner of the race a huge 9 out of the last 12 years. It is my most profitable race and the race where I have had the most number of winners over the years, for a single race. Not bad given it is normally a 20+ runner handicap. It is a record I am very proud of.
Golden Chieftain was my 3rd winner on the bounce in this race after Chief Dan George and Bensalem (2011). We have another best bet memory later on in the post also.
Another horse who I could not quite believe was 33/1 the night before the race is Golden Chieftain, trained by Colin Tizzard and ridden by Brendan Powell who I felt at the time was an up and coming jockey, worth every bit his 3lb claim. Fully justified now as in this day and age he is top class.
Golden Chieftain was right at the bottom of the handicap, rated 132, carrying just 10st 2lb but with the claim of 3lb, he would carry just 9st 12lb. I thought he was absolutely thrown in and he bolted up to win by a massive 10 lengths.
Three races into the festival and we had massive profits in the bag, it don't get much better than that.
Although we had countless winners between in the 2014 and 2015 Festival, I don't feel any were good enough to go top of the pile and ones where they long live in my memory.
5. SPRINTER SACRE TURNS BACK THE CLOCK IN 2016 QUEEN MOTHER CHASE
Not one of my biggest priced winners but a win which long lives in my memory. Like many, Sprinter Sacre is one of my all time favourite horses. In 2013 he was pulled up at Kempton over the Christmas period with reports of an irregular heartbeat, after the most extraordinary journey over fences where he had been so special and dominant. He was off the track for 386 days before returning at Ascot in January 2015 and looked a shadow of his former self. He was even pulled up in the 2015 Queen Mother Chase and then could only finish 2nd at Sandown on his final start of that season. His career was all but over and he would have to do the impossible if he was to bounce back the following year.
At the start of the 2015 season he returned at Cheltenham in the Shloer Chase and he won by a massive 14 lengths. He was back and maybe not quite the horse we once knew, but he was back in the winners enclosure and it was a joy to see. An incredible training performance from Nicky Henderson.
Over the Christmas period he then went to Kempton for the Desert Orcid Chase and he had to battle hard to hold off Sire De Grugy, to win by 3/4 of a length. Again he was a shadow of his former self but he showed true grit and determination and there was no sign of an irregular heartbeat.
That was the last time we saw Sprinter Sacre before the Cheltenham Festival and going into the festival I was on the Cheltenham Preview circuit against some very shrewd judges, trainers and jockeys, such as Fergal O'Brien, Paddy Brennan in one preview and Rory Delargy and Steve Jones (Templegate) on another. All lovely people and it was great banter but I got shot to be bits because I was in the Sprinter Sacre camp. "He can't win, "he can't bounce back", "he is not the horse he once was". All the normal cries and to them at the time I was just "James, just another tipster" and they obviously don't know the great lengths and the thinking process that goes into every tip.
All I heard was Un Des Sceaux wins, move on from each and everyone of them.
Well not JPW, "SPRINTER SACRE will win the Queen Mother Chase, you mark my words. The ground is going to be good which is totally against Un Des Sceaux and I can't quite believe nobody is even considering this, something so simple in the formbook and well known that he is a mud lover, yet you are all happy to turn a blind eye. Well I tell you why Sprinter Sacre is going to win and that is because I have seen a different horse this season, a horse who although may not be as magical as he once was but a horse who has learnt how to win again and win the hard way, in ground which was probably against him and his high cruising speed. Nico De Boinville at some point in this race will have a chance to see if he still has those same gears of old and even 85% of those old gears would be good enough to win this race, he was that good. At some point Nico De Boinville will have to ask Sprinter Sacre to go and try and win the race and I predict that being after the 3rd last fence, and when he eyeballs Un Des Sceaux and Ruby Walsh, Un Des Sceaux will think "who the f**k is that big aeroplane and s**t himself".
Low and behold the 2016 went exactly as predicted and I could not have got it more spot on if I tried. Sprinter Sacre loomed up after the 3rd last, eyeballed UDS, who could find no more and Sprinter went and did the impossible and got his Queen Mother Chase crown back. Once a Cheltenham horse, always a Cheltenham horse.
I would probably say Sprinter Sacre was my most satisfying winner ever at the Cheltenham Festival and not because it is a case of "I told you so" but because I am the type of person who loves being told you can't when I know deep down you CAN, and boy did Sprinter Sacre lift the roof. That was a hairs on your neck moment that I have never experienced at Cheltenham before and never will probably again.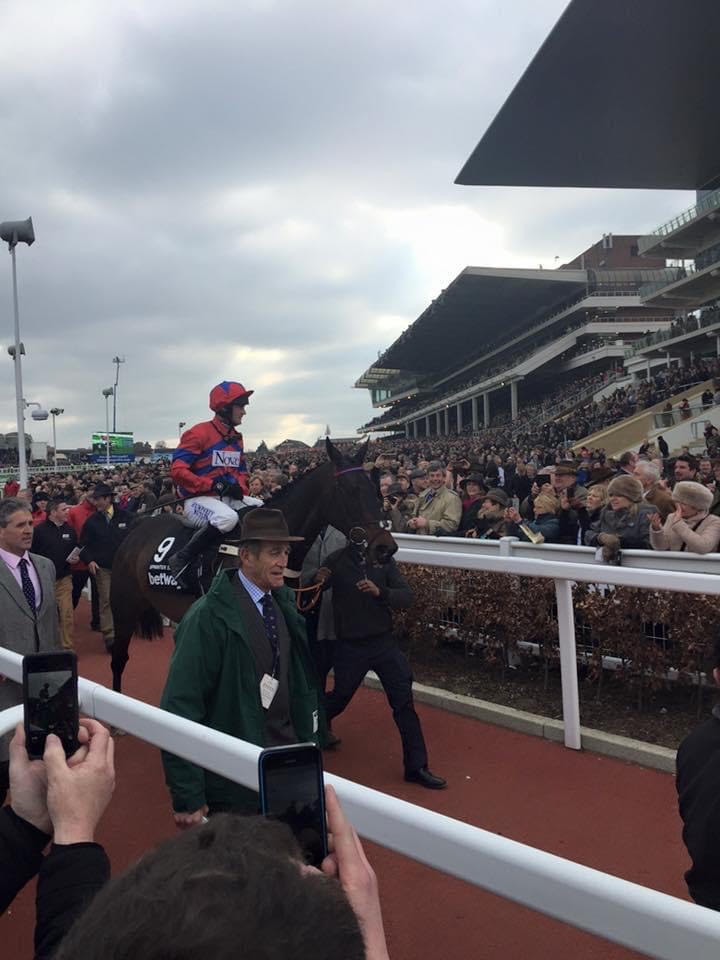 A photo I took immediately after Sprinter Sacre won the 2016 Queen Mother Chase
6. ARCTIC FIRE WINS THE 2017 COUNTY HURDLE ADVISED AT 25/1
We were already in profit going into the last day of the festival in 2017 but we wanted another big winner to put the icing on the cake. The first 2 races on the Friday were winners in Defi De Seuil (actually put up at 25/1 Ante Post back in March, although Cheltenham Festival members would only have been on at 5/2).
The 2nd race of the day and it was job done with hundreds of customers leaving the Cheltenham Festival with wheelbarrows of cash in 2017. He was a former 2nd in the Champion Hurdle and a former 2nd in this very race, 3 years prior. He loves a fast run race and was saved all season so he could go into the County Hurdle as a fresh horse.
Here is the write up sent out to customers, although you will notice a jockey change pre race, to Mark Walsh, something we didn't know the night before race.
ARCTIC FIRE who is absolutely huge at 25/1. He has been to the Cheltenham Festival twice in 2014 and 2015 finishing 2nd both times. One was in this very race 3 years ago and the other was when he was an excellent 2nd to Faugheen in the Champion Hurdle in 2015. This is a proper Grade 1 horse who is a force to be reckoned with on his day. The horse has not been seen at a course since January 2016 so has been off for over a year. For some people this is a concern but we go back to my write up on Tuesday in the Mares Hurdle. I stated then that Willie Mullins is a master at getting horses back from an injury and they are always 100%. Limini was used as the example that day and my point was the reason Limini beat Apples Jade in Ireland, prior to the Cheltenham, was the fact the horse was 100% because if she wasn't then further damage was on the cards. Now I am using the same scenario but this time it is to our benefit with ARCTIC FIRE. At the end of the day this horse finished 2nd to Faugheen in a Champion Hurdle and was good enough to run in that race this year if they wanted to play for places. The fact Willie Mullins is happy to let the horse contest a handicap and isn't bothered about using a claimer. He is happy for jockey Paul Townend to ride the horse carrying top weight who has a good relationship with ARCTIC FIRE. The key to ARCTIC FIRE is the ground, the better the ground the better he will run. The ground will be pretty quick tomorrow and he is also a very slick jumper. A smashing bet at 25/1. E/W.
7. VINTAGE CLOUDS WINS THE ULTIMA HANDICAP CHASE AT A SP OF 28/1
The horse who made it 9 wins from 12 in the race and another excellent story with JPW Cheltenham Festival antics following the Gold Cup day in 2020. Just reading through this blog we have some amazing Cheltenham Festival stories and this just tops it off.
This was the write up sent out to members, the evening before the Ultima Handicap Chase in 2021:
Can't quite believe I am here typing this but after the Gold Cup last year I got speaking to someone very well connected to VINTAGE CLOUDS. I won't mention any names but let's just say 'very closely connected'. It wasn't just a 5 minute conversation either it was over many hours over the course of the evening, and after a few too many drinks.
We got on to the subject of handicap horses who may have 'got away' at the Cheltenham Festival and VINTAGE CLOUDS pops up. He finished 2nd of 24 to Beware The Bear in this race back in 2019 rated 144 and then was 8th of 23 in this race last year, rated 151. It was mentioned in our conversation that the year he came 2nd, connections really fancied his chances and it was a horse who so nearly won.
Anyway I said my opinion was 151 was a handicap mark way too high (last year) and you got one more shot at the Ultima Handicap Chase with this horse next season, but he needs to come down to a handicap mark of 142 and given he had a wind operation just before he finished 2nd in this race in 2019, this time I would give the horse a wind operation one race prior to this race, so VINTAGE CLOUDS learns that he can actually breathe better, before the race and don't get caught by surprise during the race, that he actually can breath, which probably was what happened in 2019, as he stayed on after coming off the bridle.
I woke up the next morning and said to my wife, can you believe the nerve of me, suggesting stuff to the person, well connected to VINTAGE CLOUDS, what to do with the horse.
12 months on and exactly what we discussed has happened with the horse. I can't say it was because of me as I have not seen the person again, or probably ever will again, with it being a random meet in the first place. What I do know is I have seen something unfold in front of my eyes and I have to practice what I preached and he comes into the race rated 143 (1lb higher than what we discussed) and a wind operation (in November, with one run since). Not only that but they are also putting on first time cheekpieces, just to help that bit more.
VINTAGE CLOUDS is an 11 year old who is now 1lb lower than when he finished 2nd in this race in 2019 and this year's renewal is not as competitive. This is a horse who won the Peter Marsh Chase last season off today's mark of 143. It ruined his handicap mark for this race last year, but every run this season has been with a view to getting his mark down to 142.
He is going to have to roll back the years but I am sure he has been trained to the minute and this is one of only two horses trained by Sue Smith coming to the Cheltenham Festival. A bold front running ride I am sure will be attempted and if he can start to get a few of these working hard in behind, he will stay all day long up the hill. Can I really practice what I preached, a year on?…
8. A PLUS TARD WINS THE 2022 CHELTENHAM GOLD CUP
We had not had our greatest festival up to this point, we needed this raised stake bet on A Plus Tard to secure profit for the whole festival. If he loses, our 100% record was gone and if he wins, we just needed Billaway in the next to secure profit. The rest is history and we got the profit over the line but talk about taking it to the wire.
A Plus Tard was not my biggest winner of the week but it goes down as one of the bets and tips which gave me greatest satisfaction over the last 15 years.
For weeks or even months whoever I spoke to, I told them 'A Plus Tard will piss the gold cup'. I had gone over the race in my head a million times and the only way I got him beat was on soft or heavy ground. You can imagine my face when the unexpected deluge of rain came on the Wednesday which turned the ground soft, my heart sank but I was very deep into Ante Post Bets ranging from 12/1 down to 5/1, out of my hands.
The weather picked up on Thursday and Friday morning we woke up to the most glorious March weather with forecasts saying it would be 20C and full sun all day long. The A Plus Tard bet was back on as with this weather the ground is going to keep drying out all day.
The suit was on and off me and my wife went to the local Ellenborough Park for our breakfast. Something we do every year on Gold Cup Day and then we get a lift down the course through the fields and past the Helipad. You always spot the trainers at Ellenborough Park and this year in walked Henry De Bromhead as I was stood outside waiting to get down to the course. As you do I casually say 'Good Luck today Henry', to which he replied 'I am going to need it' – a quickly tell him 'Nah you don't  – A Plus Tard pisses the gold cup' and off he went and down to the course we went.
The day just felt right and although my stomach was turning every now and then, I was very confident. The day just felt very apt, with sun shining, bumping unexpectedly into Henry De Bromhead and the decent sized bet we had in place was on big time.
I don't often get these premonition's and today was actually the first time, but whoever I spoke to they were told 'A Plus Tard wins doing cartwheels'. I have only had one feeling like this before and this was when Ga Law netted the Scoop 6 Club £308k when he won the Bonus Race in November at the Paddy Power Festival. Everything felt right that day also. Let's hope we get one of those premonition's this year ( I can already feel one, as long as the weather comes good).
What a ride Rachael Blackmore gave A Plus Tard, it was a genius ride and every time I watch the race back, she had him in all the right positions at all the right times and it was a ride of real skill.
We called in in the write up how the race will be run and to see it unfold as we said, gave me great satisfaction.
What a day it was, we cleaned out the bookies and partied long into the night.
Here is the write up sent to members a couple weeks before the race:
I think the key to this race is going to be the conditions and at what pace the race is run at. From my reading of the race everything about this race is going to suit A PLUS TARD. As far as I can see after looking at many different angles, the pace is virtually non-existent. There is not one horse in the race in which you look to and immediately think they will take them along at a nice pace. The slower the pace the more it will suit A PLUS TARD as I really feel that the way you have to try to get A PLUS TARD is by making it a stamina test. Sure the horse who wins this race will have stamina on his side but I don't think the race will be that type of race where the whole emphasis will be on stamina and once again it all comes down to the pace. You have not got a Frodon, a Denman, a Native River or a Coneygree this year and I can't tell you how much that will play to the strengths of A PLUS TARD.
Secondly another play to get A PLUS TARD beat would be the ground. In Soft or Heavy ground it would again test his true stamina no matter what pace they went but the forecast is dry from Sunday afternoon, leading all the way up to the Gold Cup, which tells me the ground come Friday will be an absolute minimum of Good To Soft. 
It now becomes a race where you are trying to get a classy horse like A PLUS TARD, who has so much speed. We know this because he beat Chacun Pour Soi over 2m 1f, he was 2nd to Min in the Ryanair Chase in 2020 and you don't run big races against those horses if you don't have speed. Back in November he absolutely bolted up in the Betfair Chase at Haydock, by 22 lengths, on ground which was riding very quick. A PLUS TARD was just impeccable in the jumping department and jumped as well as I have seen any horse in a long long time. He travelled with such zest on decent ground and pretty much won on the bridle. It really was a wow moment for me and it was in the mould of how Kauto Star used to win those Betfair Chases on decent ground.
In all fairness Kauto Star and A PLUS TARD are quite comparable and I am not comparing them in terms of ability as A PLUS TARD has got a long way to go to be in Kauto Star league, but I do feel they are very much the same horse, in that they were both speedy horses, both very very classy, both won over the minimum trip, both excelled on decent ground and both travel with zest.
I just think everything about this race screams A PLUS TARD and you will see him cruising to 3 out and then 2 out, before being sent on to jump the last in the lead.
I also think he is a much better horse this season than last year, when he came home 2nd in the Gold Cup to Minella Indo. I have watched the replay back and last year he didn't jump with the fluency he does this season, yet only went down by 1 length and was actually closing on Minella Indo going to the line. A PLUS TARD also loves it around Cheltenham, coming alive in the spring time and his form at the Cheltenham Festival in the last 3 years, reads 132, it is in line with Minella Indo form at the Cheltenham Festival whose form reads 121 in the last 3 years, yet our selection form never gets a mention.
Of the opposition I have no doubt last year's winner Minella Indo will be at his peak in this race but I am just not sure the race will be run to suit this year. Will he have to make the running to ensure he gets the stamina test that is needed? If that is the case that is surely a negative. Will the ground be a bit too quick for him and play into the hands of "faster horses" such as A PLUS TARD.
The same could be said about Galvin who beat our selection by a short head last time out, in the Savills Chase over the Christmas period. He was taken along by Kemboy that day but we don't have that type of horse in the race this year, so will he have to make his own pace? Will it be the stamina test that he needs if he doesn't make the running? We heard it recently from Gordon Elliott that Galvin is showing them speed they never thought he had. To me that is a negative as they have always felt he was a slow horse whereas our horse, we always knew he had the speed.
I also feel A PLUS TARD did a lot wrong last time out and went to the front too early and I don't see Rachael Blackmore making the same mistake again and if that Savills Chase was run again, A PLUS TARD would win 9 times out of 10.
Of the rest I couldn't have Protektorat on decent ground and I really don't think he is up to this level. While Al Boum Photo has won this race 2 times, is not getting any younger and it would be hard to see him turning the form around from last season.
A horse who I do think will run well on decent ground is Chantry House but again I couldn't have him in the league of A Plus Tard.
A PLUS TARD is remarkably only an 8 year old. He has been around for a number of years yet is only just at his peak. I think you are going to see him at his absolute best here and I would not be at all surprised if he won the race by a good few lengths. 
The 4/1 looks a great price as with everything we have talked about, down to the pace of the race, to the ground, to how they will travel, I would actually make him a 9/4 shot. 
We saw Rachael Blackmore become the first female jockey to win the Grand National last year and this year I think we are going to see our first female jockey win the Gold Cup. WIN.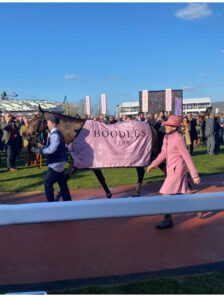 A photo taken of A Plus Tard following his win in the 2022 Gold Cup
My Final Thoughts……
I hope you enjoyed reading our best Cheltenham Festival Bets over the last 14 years (this year is our 15th). We have had many winners and it was hard pinpointing 8 of them but we got there in the end.
I hope it shows you that at JPW Racing Tipster, I leave no stone unturned, we often find some big priced winners and more so, we have been in the game for nearly a decade and half. We are not a flash in the pan and what I like to describe as the ultimate Cheltenham Festival Service.
Confidence is sky high that we will make it 15 from 15 festivals in profit in 2023.
Come and join us for the 2023 magical journey and I am sure you will be part of another epic story which is sure to unfold this year.
Thanks for reading and any feedback and comments are always welcome.